Reach your singing goals and grow as a performer
Kathleen Connell teaches sustainable, evidence-based vocal techniques and performance craft, helping you develop as a singer and connect with your audience.
We've moved to a new CBD studio space!
Kathleen Connell Singing Studio has successfully been granted a studio space at the new Creative Spaces within The Greenland Centre, Bathurst Street, Sydney. Managed by BrandX for The City of Sydney.
Singing tuition for dedicated singers
When you work with Kathleen, you have a collaborative, creative singing teacher. Lessons are tailored to your specific needs, goals and experience level, based on the foundations of healthy singing:
Breathing
Posture
Resonance (Sound production)
Articulation
Getting your voice technique right lets you explore songs you enjoy and those that challenge you.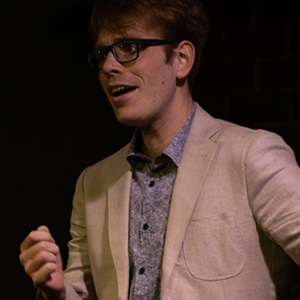 What to expect in a lesson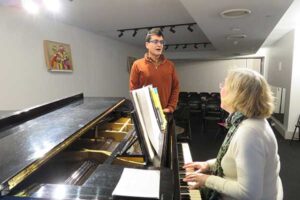 Free your singing voice with customised training that enhances vocal technique and sets a program to improve your voice so you can sing and perform with confidence and ease.
Studio and online lessons
Singing training packages to suit your schedule, location and experience. Choose from in-person lessons at two convenient Sydney studios, and online training via Zoom, Facetime or Skype.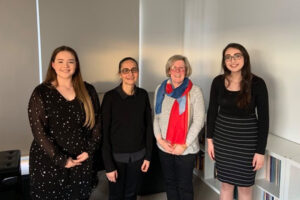 Studying singing for the HSC, AMEB or international exam systems? Kathleen knows the requirements of each to train singers to exam success or prepare you for your audition.
Passionate about seeing her students succeed, Kathleen has a background in performing professionally in Australia and overseas. With post-grad qualifications and more than 20 years' teaching experience, she has trained singers of all levels, encouraging them to go beyond their comfort zone to master their singing and their craft.
What Kathleen's students say
"Kathleen is a wonderful teacher; she can identify and explain clearly which muscles you need to relax or how to change your breathing to get that clear, steady sound you're looking for. Kathleen also provides recordings of the accompaniment, so I can sing along without lag, and it's helped me get better at keeping pitch unaccompanied rather than relying on singing with the piano."

"Kathleen has an amazing depth of knowledge, helping me define and achieve my personal goals. I make tangible improvements with every lesson, and now sing with better quality, less effort and renewed confidence."

"Through Kathleen's consistent application of technique and feedback, I feel I'm making the right breakthroughs at just the right time. As a result of Kathleen's guidance I'm enjoying singing even more than I used to and really enjoying the process of learning about my voice."

"Over the last few years working with Kathleen, I have noticed significant improvements to my breath control, pronunciation and tension reduction among other areas. I value her considered feedback each lesson, which is straightforward and easy to implement - a testament to Kathleen's ability to relay her vast knowledge of the voice."

"I have learnt how breath is controlled and how to work with an accompanist as a collaborator. The most significant moment I noticed an improvement in my voice and performance was at Kathleen's Studio Concert. I have gained true confidence as a singer."

"Kathleen has really helped me rediscover my love of singing. I cannot recommend her highly enough! Online

 singing lessons give me the flexibility to continue my lessons from home without sacrificing the valuable weekly insights provided by Kathleen. We practice technique, discover new songs, and, most importantly, have fun!"