Singing exams
Performance coaching for exams including HSC, AMEB, IB, Trinity, and tertiary college auditions
HSC Music, AMEB and other exam preparation
HSC Music 1: Working with you and your class teacher, Kathleen guides you through the syllabus and assessments, helping you choose enjoyable songs that are not overused, and that match set topics and your ability.
HSC Music 2: Building on your previous singing study and experience, Kathleen helps you develop your performance craft and the finest repertoire for the course. Most of Kathleen's Music 2 students have achieved outstanding results, with many singers progressing to prestigious music and creative arts courses and careers in entertainment.
AMEB: Kathleen works with young and older singers, whose aims range from expanding their repertoire through to achieving high grades. Recent AMEB singing students have achieved A+, A and B+ results, with consistent praise of their abilities to emotionally connect with a song in their performance, in addition to their vocal prowess.
Other exam systems Kathleen has experience with include: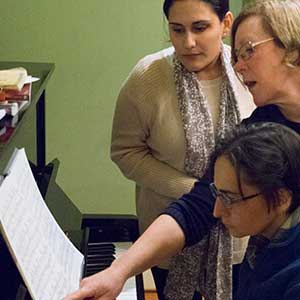 Helping you win that audition
If you have goals to pursue tertiary singing and performance courses, Kathleen can help you prepare for the specific requirements of your audition. Students she has coached have scored places at prestigious colleges including NIDA, WAPPA, VCA and the Sydney Conservatorium of Music.
Find out how Kathleen can help you achieve your goals
"I have been working with Kathleen for almost two years now and she is truly an outstanding teacher. I have seen my singing improve and I have been able to expand my repertoire with Kathleen's expertise. On top of this, Kathleen's approach to lessons means that learning is not just confined to lesson time. I get wonderful resources to improve my singing during the week which means the learning never stops. I highly recommend Kathleen Connell Singing Studio."