Expand your song choice and hone your technical skills with these classics from The Great American Songbook
When it comes to song choice, the simplest option is to return to your go-to song list; those familiar, well-worn songs you know like the back of your hand. But as they say, the easy way isn't always the best. Because there's not only the risk that singing will become tedious but staying in your comfort zone limits your chance to test and improve your technical skills.
Part of my job as a singing teacher in Sydney is to match my students' abilities with appropriate songs. The student's age, life experience and whether they'll perform the song all play a part in my decision-making, as well as the time they have available to commit to practice.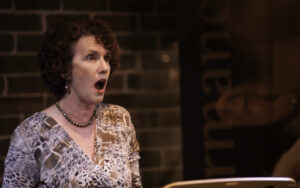 Joanna Copeland, one of my more experienced students, fit into this last category: time poor. With a full-time professional career, Joanna had found it increasingly difficult to dedicate the time required to the classical songs we had been working on.
So, we switched our focus to songs from the late 1920s to 1950s. Known as The Great American Songbook, it's a collection of several hundred songs from this era, where a small group of composers penned a raft of influential American popular songs and jazz standards.
You'll probably be familiar with names like Irving Berlin, Cole Porter and Duke Ellington. And songs like 'Cry me a River', 'Georgia On My Mind' and 'It Don't Mean a Thing (If It Ain't Got That Swing)'.
This era of song writing is considered one of the best periods for songs that suit a wide range of singers. The compositions and lyrics are well-crafted, with often quirky use of words and scrumptious examples of alliteration. They also have the potential to develop lots of technical needs for singers, from articulation through to breath control.
If you're stuck in a repertoire rut, then I highly recommend you consider The Great American Songbook to help you expand your song choice and improve your technical skills. Of course, with hundreds of songs to choose from, it can be tricky to know where to start, so here's my list of Top Twelve songs from The Great American Songbook, categorised into beginner, intermediate and advanced ability levels.
BEGINNER
I Got Rhythm (G. Gershwin)
Dream a Little Dream of Me (Kahn, Schwandt and Andree)
In the Mood (Razaf & Garland)
God Bless the Child (Holiday)
These songs offer universal themes and are not necessarily gender-based. The range is very accessible and technically you'll have the opportunity to improve articulation, Legato style and rhythm, including syncopation, which is off-the-beat singing.
INTERMEDIATE
Comes Once in a Life Time (Styne, Comden & Green)
What is this Thing Called Love (Porter)
Cry Me a River (Hamilton)
Someone to Watch Over Me (Gershwin)
Here we have songs that will test your breathing skills with longer phrasing. There are also wider leaps in intervals, dynamic changes and more complex rhythm and meter changes. If you're planning a performance, these songs give you an opportunity to tell a story, as well as savour words.
ADVANCED
Blues in the Night (Arlen & Mercer)
The Birth of the Blues (Henderson, DeSylva and Brown)
Skylark (H. Carmichael)
Love for Sale (C. Porter)
In this advanced bracket, long notes require good breath control. Full range of voice is also needed, with a well-developed chest and head voice. The rhythms are quite complex in parts and it's important to pay close attention to dissonances and any key changes. You'll see examples of musical painting of songs with composers often matching ideas with musical devices. The lyrics often portray a character or a particular social issue. For example, 'Love for Sale' is about a prostitute and 'Skylark' about unrequited love.
Author:
Kathleen Connell is a Sydney-based singing teacher and vocal coach who trains both aspiring and accomplished singers in technique and vocal skills. She is an active member of ANATS, a writer and PhD candidate at Griffith University.