I love the fact that singing is a simple pleasure; a pastime where your voice is the only requirement.
Yet singing can be so much more and I'm thrilled to share two stories where singing has inspired connection, stirred creative juices and moved people beyond their comfort zone.

Vanessa Gray has always liked singing, but didn't fully realise it until she gave it up! "It wasn't until I gave up everything in my life to concentrate on becoming a Chartered Accountant that I actually realised that I like singing," she said.
Since this aha moment, Vanessa has thrown herself into choral singing, first with the QPAC choir in Brisbane and more recently with the Festival Chorus, one of the Sydney Philharmonia Choirs and Choir Rocks, a community choir based at The Rocks in Sydney.
"I really love being involved in choirs. Singing with that many people and making this amazing sound is so uplifting," said Vanessa. Through choral singing, Vanessa has had the opportunity to perform on some illustrious stages, including at the Opera House, where she performed for Carols in the House in December last year. "It's a really good feeling. There's a sense of accomplishment."
In a fun twist, Vanessa was also involved in a flash mob last year, to help promote the Festival Chorus. The 400-strong choir performed Christmas carols in the middle of Pitt Street Mall, much to the surprise of Yuletide shoppers. Check it out here.
Performing at the Opera House and in flash mobs is a far cry from her day job as an accountant, which is another thing Vanessa loves about singing. "Being a very logical and numerical person, music is a great creative outlet for me."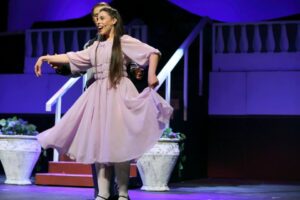 It's a similar story for Natalie Rose Cassaniti, who works as a collections officer at a museum by day and by night, finds herself performing in community music theatre. For Natalie, it's the adrenalin rush of performing that inspires her to pursue singing and performing in her downtime. "It's the whole process of theatre," she said. "Everything that's involved in preparing for the performance; getting into costume and waiting to go on stage. The anticipation is really exciting."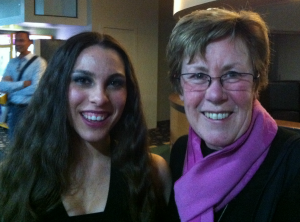 She also loves the opportunity to go on a journey with a character, taking the audience along for the ride. "You can be anyone you want to be when you're creating a character," said Natalie. "I love to tell stories through song."
Natalie first tried music theatre in high school and has since won several roles, including Liesl in the Sound of Music and Philia in A Funny Thing Happened on the Way to the Forum. Her next major performance is coming up in May, when she'll play Johanna in Sweeney Todd. The role has one stand-out song, which provides the opportunity to further develop her voice. "It's a really challenging piece and through lessons I've enjoyed learning how to strengthen my voice to sustain Johanna's high notes."
Has singing challenged you to step outside your comfort zone or connect with people in your community?
To see Natalie play Johanna in Sweeney Todd go to www.hmds.org.au. Presented by Holroyd Musical and Dramatic Society, Sweeney Todd will play at The Redgum Centre, 2 Lane St Wentworthville on May 15th, 22nd, 23rd @ 8pm, and 16th @ 2pm and 8pm.
Find out more about Sydney Philharmonia and Choir Rocks.