Being a singing teacher, I suppose it's no surprise I find birds and their songs so captivating.  
Birds have especially enchanted me this summer, as with the general quietness and less air traffic noise, their carolling, shrieking, whistling, chanting and warbling are easily heard. We've even had a family of magpies visit us regularly, perching on our deck to carol loudly. 
During the summer holidays, we walked in Woko National Park near Port Macquarie and happened upon a lyrebird, the native Australian bird with the ability to mimic hundreds of bird's songs and even human and mechanical sounds, such as chainsaws or motor engines.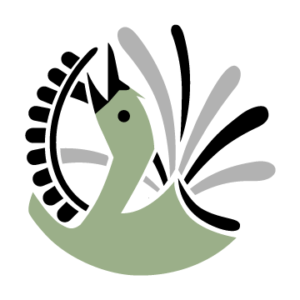 Not only is this remarkable bird in the logo for the NSW National Parks and Wildlife Service, our singing studio has the lyrebird as its logo, which you can see on our newly redesigned website. 
Why the lyrebird? It represents my approach to singing teaching
When I was working on redesigning the logo, my aim was to open up the illustration and 'let the bird be free'. This is what I want singers to achieve: to free their voice.
I help students learn to sing in many different styles and across various genres. This training is securely underpinned by technique, knowledge and a singer taking ownership of their sound and their voice. Like the lyrebird, singers learn to use sounds that are not inhibited by concepts of what is right, best or approved of, but that connect emotionally as a storyteller, through their technical finesse and into song.
Like the lyrebird, a singer has to 'dig around and scratch about' to find their gold through patience, seeking the 'good soil' of foundational teaching and spending time with their voice. 
Like the lyrebird, with expert singing training, a singer reveals the beauty of tone and skilfulness in their voice through their display of song. 
Human and bird voices: different structures creating beautiful sound
So many songs use the metaphor of birds singing to describe human voice and the sounds we make. And while the anatomy is different, both humans and birds can produce beautiful sound with training and practice. 
The human 'voice box' or larynx, is located in our throat. In birds it is the syrinx, situated at the lower end of the trachea (windpipe) where it forks into the lungs in the chest. So in birds, the chest muscles on the left and right can modulate vibrations independently, allowing some songbirds to produce more than one sound at a time, like the magpie's carolling, the songs of the butcherbird – or the multiple sounds a lyrebird can produce.
And because a birds' syrinx is located so close to their lungs, their sounds are much louder than ours, carried on the full force of air from their lungs.  
For sustainable singing techniques, you need to learn how your larynx works 
Your larynx has little to no nerve endings, so you can't feel it. Instead, you learn how to 'play it' through auditory feedback (accuracy of pitches, rhythms, vocal volumes); kinesthetics, or vibratory, feedback (the greater and lesser use of muscles around your larynx); and visual feedback (via mirrors, recordings and gestures to describe laryngeal shapes and movement). 
The larynx is suspended in your neck on a scaffold of joints, ligaments, cartilages and the hyoid bone, at the top of your throat, attached to the base of your tongue. Within the thyroid cartilage and cricoid cartilage are your vocal folds – tiny, flexible muscles that contribute to you making sounds like singing. 
When you inhale deeply, your vocal folds open wide and air goes into your lungs. As you begin to sing, pressurised air from your lungs flows up to your vocal cords and they ripple to create noise. 
Learning to 'play your larynx' becomes more sophisticated when you want to move up to a higher vocal register and down to your lower register.
Achieving a firm, clear sound is the goal of singing training and means you have a balance of air flow, and a balance of vocal cord closure. Look out for an in-depth series on breathing for better singing later this year.
To find – and free – your best singing voice, browse the Studio and Online singing lessons to find one that suits you. And for any enquiries, Get in touch. 
Kathleen Connell is a Sydney-based singing teacher and vocal coach who trains both aspiring and accomplished singers in technique and vocal skills. She is an active member of ANATS, a writer and PhD candidate at Griffith University.