If you've been learning singing for some time, you probably know your vocal exercises off by heart. And while you know their benefits, you'd be forgiven for finding them a little repetitive and tedious.
So, is there a fun, more varied and challenging way to further develop your voice and performance?
Yes! It's called vocalise (pronounced 'vocaleese'). If you google the term, you may only find references to its use in the classical repertoire – and for advanced singers at that. But to me, this is an unimaginative and limited attitude. I have seen – and heard – how vocalises help singers of any level and in any genre, with modern vocalises now available in classical, music theatre and contemporary styles. 
What is a vocalise?
Firstly, it's a noun, not the verb meaning to make a vocal sound. In singing training, a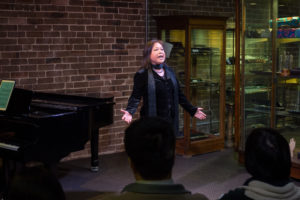 vocalise is essentially a short song, mostly without words. They have been used for centuries, yes, particularly in the classical genre, to help singers develop vocal technique and musicianship.
Think of them as similar to a study or étude a pianist, violinist, or clarinettist might use to perfect their technique.
Isn't that the same as vocal warm ups?
No! There is a difference between vocalise compositions and exercises you would use daily to warm up and develop your voice, like scales, arpeggios and triads. Vocalises create a context for the musical and technical aspects you learn in a singing lesson. They help you make the connection between foundational singing exercises and repertoire, improving your ability to sing and interpret various styles.
Unlike your usual exercises, vocalise helps you improve a specific technical challenge in singing, such as tempo, agility, resonance and articulation, all in the context of a song. 
Why are there no words in most vocalise compositions? 
Because with vocalises, the aim is to get you focusing on what your body, brain and feelings are doing. Words can distract you from this process. Vocalises are based on different vowel sounds, so they still work various mouth shapes, resonance and phrasing. Another way to think of it is, vocalise helps you focus on expressiveness in your singing, rather than simply doing a singing exercise.
How do vocalises specifically improve singing?
Some of the many advantages of adding vocalise to your singing study include:
builds balance and strength in singing while broadening your range of musical styles

coordinates easy, smooth and precise register changes within the context of a song

builds versatility in speed, coordination, precision and smoothness. Helps you sing chromatic and melismatic passages better, whether it's Mariah Carey or Mozart

helps you add more expression, easily switching from soft to loud, and improves your singing of staccato and legato styles 

helps you combat self-consciousness and learn to sing without fear of making mistakes. Giving yourself the 'freedom to fail' is essential to improving and building confidence! 
Modern vocalise gives you even more flexibility for learning
While traditional vocalises have no words, there are some more versatile versions – even with words – such as those developed by Vaccai in Italian, or Sonny Chu's compositions using jazzy scat sounds.
Listen to this example for a better idea:

Some modern vocalise I use with students include:
As you see, vocalises can be technically and musically testing, so you need a singing teacher who can assign them with thought and care. If you're ready for a new challenge in your singing training, I can help. Get in touch to learn more.
Author: Kathleen Connell is a Sydney-based singing teacher and vocal coach who trains both aspiring and accomplished singers in technique and vocal skills. She is an active member of ANATS, a writer and PhD candidate at Griffith University.