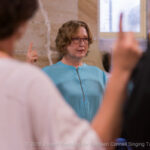 Have you ever wished your performance skills matched your top-notch singing technique? It's not uncommon for even advanced singers to feel clueless on stage, but there is help at hand.
At a recent performance workshop run by Kathleen Connell Singing Tuition, experienced singer, director and mentor Christine Douglas shared these top tips for owning the stage.
Show off
If there's one thing all performers should do, it's give yourself permission to show off, according to Christine. When you're on stage, it's time to shed any shyness and grab the moment by the scruff of the neck.
Increase your gaze
Opening yourself up to an audience can be daunting, but it's essential if you want to make an impact. One technique is to imagine that your gaze creates a pool of light over the crowd. Start by looking just 1 or 2 metres in front of you and 'see' the light spread. Gradually extend your gaze further afield, to 5, 10, 20 and even 50 metres and picture the light widening with your gaze. As your gaze expands, your body and mind will also open to your audience.
Sing to someone
Singing to someone real or imaginary in your audience is another way to nurture openness when you perform. With many eyes upon you, it can be difficult to know where to look. So a good idea is to pick someone in your audience to sing to. Or imagine someone out there, perhaps even a character in your song. You can do this when practising too, by putting a soft toy on a chair in front of you or asking a friend or another singer to join you on stage. Look into their eyes and sing the song to them. While this can be confronting at first, you'll soon warm to the idea and it will loosen your need to 'sing correctly'.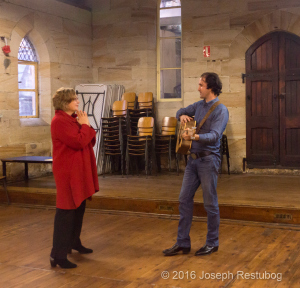 Tell a story
To communicate with your audience, it's important to understand the story of your song. In fact, this is the first thing you should do when learning a new song. Read through the lyrics and ask yourself these questions:
Why is my character saying this?
Who am I singing to?
What happened immediately before this?
Armed with this information, you're equipped to bring the song's character to life, which is a sure way to effectively tell a story and make an impression on your audience.
Taking your singing prowess from the safe haven of your home or singing lesson to an audience can be an unnerving step. Yet you can learn so much from the experience, as well as the immediate feedback you receive from an audience.
Looking for ways to manage performance anxiety? Read these tips on befriending your butterflies.
Here's how the performance workshop changed the performance skills of some of the participants:
"The workshop with Christine gave me a fresh perspective on my performance whilst singing. One of the most compelling ideas that I took away was to develop my gaze by imagining 'Pools of Light' that can expand to suit the location and audience size."
Nick Barkl, Actor and Singer, NSW
"The workshop has changed the way I will perform. From now on, I will step into the song and feel the emotions in my body, so I can share them with the audience. A song requires the singer to be part of the story, to feel and express the emotions of the lyrics; not a visitor who merely sings in a technically perfect way. Music comes alive when the singer is fully present to the music and the audience."
Joanna Copeland, Quality Manager – Qantas Airways Ltd, Sydney