Singers preparing for a high-pressure performance must stop torturing themselves about technical details according to performance workshop presenter Christine Douglas.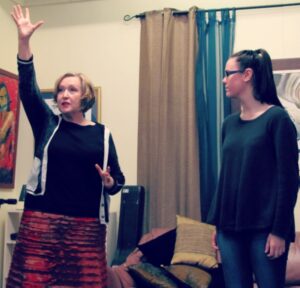 "There is so much involved in becoming a singer, from the musical and technical aspects to language and diction, that many people get bogged down in the detail before a performance," she said.
"The result is they often totally miss communicating with their audience."
An experienced opera singer and director, Christine believes the key to performing is turning your attention outwards.
"When you're so focussed on getting everything right and busy processing all of the technical information, performing becomes quite a cerebral, internal process," she said.
"Yet the big picture of performance is to communicate. It's about opening yourself to the music – what it means and how it makes you feel – so you can express that with others and make an impact."
A mentor to young artists for nearly 20 years, Christine teaches singers how to open their minds and bodies to the joy of communicating through song.
In an upcoming workshop facilitated by Kathleen Connell Singing Tuition, Christine will share a series of techniques to help singers transition into powerful and confident performers. The workshop, held in Sydney on Sunday, June 19, is aimed at students preparing for exams, eisteddfod competitors and concert and choir performers.
Attendees will learn how to connect with their music, find the best energy, create stage presence and evolve into a poised performer when it counts.
Secure your spot now at this practical workshop. Open to singers looking to prepare for an upcoming performance and take a hands-on approach, as well as participants who would prefer to observe.
WORKSHOP DETAILS
Presenter: Christine Douglas
Pianist: Mikey Curtain
When: Sunday, June 19, 2016 | 12.30pm to 5pm
Cost: $100 per full participant; $40 for observers
Where:
St. Andrews Church Hall, Balmain
217-223 Darling Street Balmain (Corner of Darling and Curtis)
Parking: Council meters in local streets
Buses 401 from CBD and 445 from Canterbury