What draws you to the songs you love listening to and singing? Aside from the melody and lyrics themselves, I'd wager it's the way a singer expresses those lyrics that engages and, ideally, moves your emotions as a listener. 
Singing with emotion is an important part of learning to sing. It not only involves vocal expression, but facial and bodily expression through gestures. A singer needs to learn how to interpret and inhabit a song, its story and its characters to truly hook an audience. 
At our recent concert, the Studio's singers showcased how they've developed as performers, so I thought I'd share some of the elements a singer needs for more expressive singing, to bring a song to life so it engages and entertains an audience. 
Understand the lyrics first
Learning new song lyrics is a little like a refresher in language comprehension from school. You need to really dig deep into your understanding of the words and the story they tell, in order to perform your interpretation of it. Approaching a song's lyrics as you might a poem or lines from a play is a good start. Take it line by line, read the words aloud and reflect on what you think they're saying. You can get creative by deciding which words you'll emphasise – this can completely change the meaning of a phrase or sentence, and therefore, the meaning of a song. 
For example, a simple sentence like: "I had a cat". You could say:

1) I had a cat
2) I had a cat
3) I had a cat. 
Each emphasis conveys something different. 
Experiment with the prosody of the words, i.e. their rhythm, intonation and emphasis, and notice how this affects the meaning and emotion. 
Get in character
Singing does require some acting skills – even if it's simply a more amplified version of yourself rather than playing a completely different character. It may require some research, investigating the origins of the song. For example, if it's from a musical, what's the story's plot and setting, and at what point in the action does the song appear?
At the concert, Gina, sang 'I Just Wanna Be a Star' (D. Goggin) from the musical, Nunsense. This song's character is a nun who longs to strut the stage, rather than be in a disciplined religious order. Gina researched the nun's background, and worked on the highs and lows of the song's words and phrases, which are quite patter like and need to be sung in a clearly spoken style so the audience can focus on the unfolding story. 
Musicals offer helpful background details to a song's character, but for others, like standalone songs, you'll need to improvise and invent the details – as Harry did with his interpretation of Cy Coleman's 'The Best is Yet to Come'. While Sinatra sang it with a cocky self-assuredness, Harry decided to lean into the song's hopefulness and cheekiness, taking a more fun approach that made it less about a man beguiling a woman. 
Part of getting in character is understanding their motivation for singing a song, and its role in a wider story if there is one. This also requires research and/or inventiveness, depending on how much source material is available. 
Belinda sang the deeply emotional 'How Could I Ever Know' (Simon and Norman) from the musical, The Secret Garden. In this song, a mother has died and her ghost sings to her child and husband, encouraging them to persevere without her. Belinda's goal in performance was to put away the technical focus and invite the audience to be part of the story. 
Working with other musicians – and what to do in instrumental sections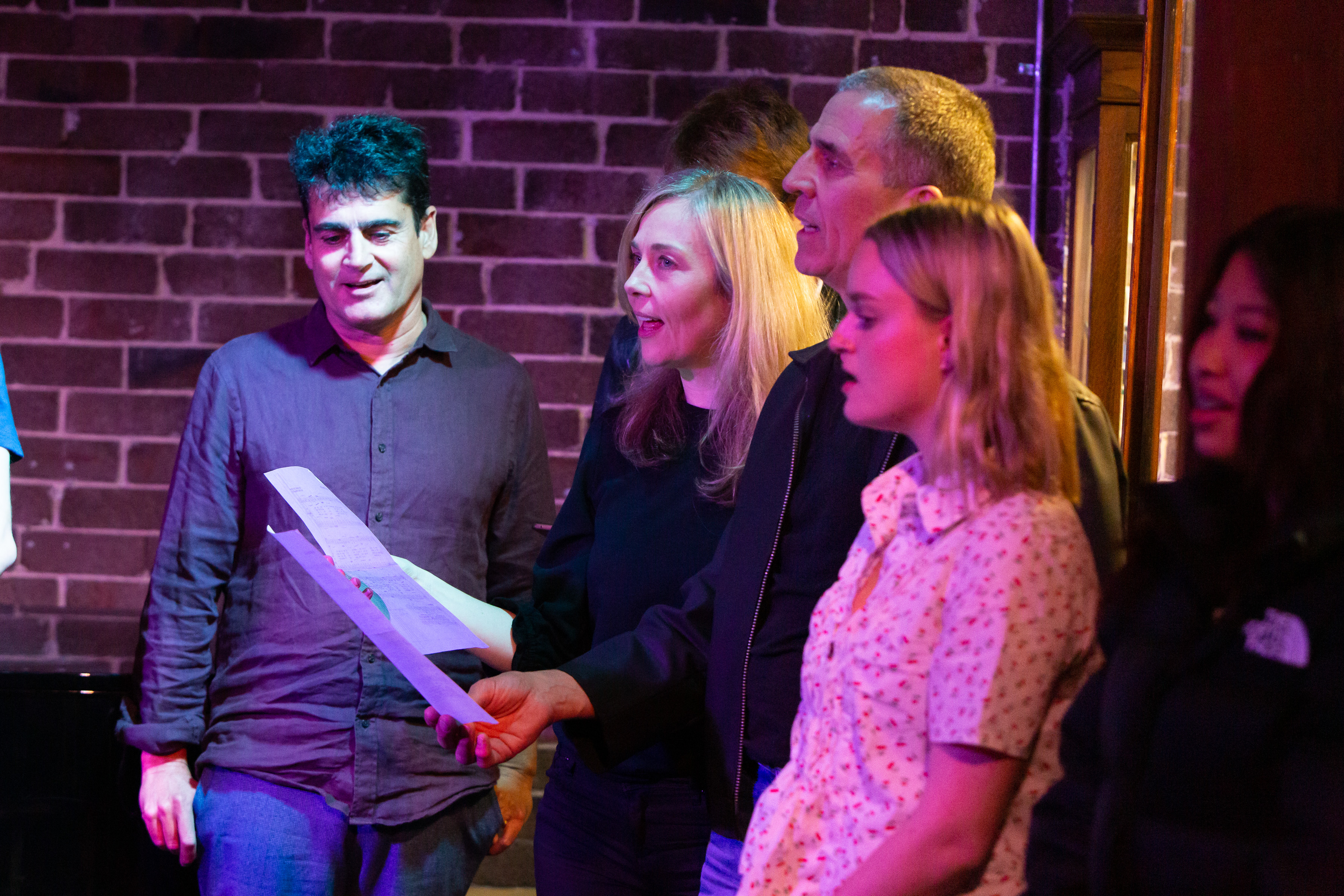 When performing live, a singer will work with an accompanist, whether it's Alison, our wonderful pianist, other band members, or even playing their own accompaniment. 
As most songs have an instrumental interlude, a singer needs to stay connected to the song and all the players, for their cue to start singing again. How will you stay in character while not singing? The two songs Nick chose required close collaboration with Alison. 'You Don't Know Me' (Walker and Arnold) is a regretful, sad song of lost love and 'The Villain I Appear to Be' (C. Spiotto) is a sparky work depicting an animated criminal character who thinks a lot of himself. 
In both, the piano instrumental passages take off in flights of highly specialised jazz-style improvisation. During these instrumental sections, Nick looked to Alison, drawing attention to their collaboration, while staying in character: downcast in song one, cocky in song two. He used subtle hand gestures and head movements to convey the song's emotions, and guide the audience's attention where it needed to be.
Bringing a song to life requires a singer to work on skills including musicianship, vocal technique and stage craft. The studio concert offers singers the opportunity to present songs that are the result of this work, practice and research. And our new CBD studio at the Greenland Centre in Bathurst Street provides a state-of-the-art rehearsal space to help you prepare for your next performance.
Kathleen Connell helps singers of all levels develop their performance skills. If you have specific singing goals, a 5-week Album pack or 10-week Opus pack of singing lessons will get the best results. Browse the studio's in-person or online options, or get in touch.
Kathleen's expert lessons help singers discover their voice and assist them to make the changes that will bring confidence and security to their singing. The work needs guidance and there are no quick fixes, but the benefits are worth it. Kathleen actively pursues professional development as a teacher, singer and musician and was awarded a PhD for studies on singers' career trajectories. She is a published author, who also loves gardening and bike riding.