In last month's blog, we looked at how to improve your vocal expression when singing in performance. We briefly touched on some forms of physical expression, too, and in this article, we'll look more closely at using gesture and movement in singing.
Our bodies not only house our vocal instrument, they are our vehicle for communicating a song's meaning and emotion. This is how we truly connect with an audience.
Non-verbal communication has been shown to carry more importance than the words we speak or sing. US-based psychologist, Dr Albert Mehrabian, is credited with finding that 55% of communication is through body language, while 38% is tone of voice, and 7% is the actual words spoken. So, while your vocal skills are important, when singing or speaking, it's your body language others respond to more. This includes facial expression, posture and gesture.
As singers and performers, we need to learn how to use our bodies – our arms, hands, facial gestures and movement – to express the meaning of songs. But this doesn't always come naturally. Self-consciousness and performance anxiety can get in our way, leaving our moves stiff or inhibited when performing.
So how do you learn to sing using hand gestures, facial expressions and movement that match the song content and feel natural to you?
Start by observing others and yourself
We all use gestures and facial expression in everyday communication, so become more aware of how you and others express messages and emotions. Children interacting are great examples, too, as their movements and expressions can be exaggerated.
Some more ideas to try:
When speaking to a friend or child, don't use your hands or bodily movement and see if that changes the message.
Notice if you have habitual mannerisms that may limit your singing. Do you raise your shoulders or furrow your brow often?
Watch an audience react as a seasoned performer sings.
Use a mirror, or video yourself reading a children's story aloud:
Recite the story with as much expression as you can
Repeat the story with a deadpan face and no movement
Repeat again as a character with a different or 'cartoon' voice and movement. Think Bugs Bunny, Dracula, Mr Bean. Or, you could recite Goldilocks and the Three Bears using a grumpy voice and movement. Or The Three Little Pigs as a frail elderly person.
Use hand movements only to tell the story – no voice. You can exaggerate at first, and after a while you'll find ways to express the story with appropriate gestures.
Face and hands – the main focal points
When you perform for an audience, they will most likely focus on how your face and hands communicate the song.
Eyes
Your eyes are a vital part of expression in performance. Closed eyes, or a gaze that suggests you're tired or not present, can leave your audience feeling disconnected from your story. Making brief, occasional eye contact with your audience helps engage them. Have a friend or singing teacher check how you use your eyes and where you focus as you sing. And watch yourself in the mirror or on video, then reflect on how your eyes tell the story of your song.
Hands
What to do with your hands when singing?
Your hand gestures (or lack thereof!) can make you look relaxed or awkward as you sing. In daily life, hand gestures are an almost unconscious response: e.g. covering your face with your hands if an unwanted object comes near; or pointing to indicate a direction or location. These gestures can be too quick for singing, so you need to learn to slow and release a gesture, bringing your hands back down in a controlled, elegant and storytelling manner.
Try this exercise to finesse using hand movements in performance:
Rest your hands loosely at your sides.
Leading with your thumbs, slowly take your hands outwards and slightly upwards. Then take them out in a big arc, with your elbows away from your body and your palms up and open.
With your hands outwards, slowly move your hands back to their original position. Try one hand at a time. Try bringing your hands back and resting them one in the other, at the front of you. Then do the move again and change where your hands return to.
With practice, this will feel more natural, and you can make your hand movements faster, higher, slower or even use small gestures with fingers, depending on the story in your song.
Get moving!
While your audience wants to see you move to your songs' rhythms, they're not expecting the athletic or acrobatic moves of some stadium performers. Singing and dancing like that requires extreme stamina!
DO start small, perhaps around the house, practising a few steps in time to the music while you sing. Be aware that moving for the sake of it doesn't read well on stage. Some songs need very little movement, while others need more.
DO let your moves be planned but feel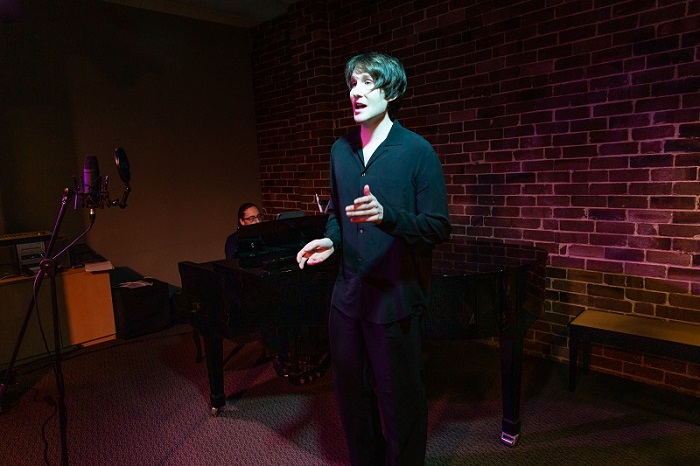 and look organic. Movement on stage needs a sense of spontaneity that is planned. Make sure you know where you are going to breathe and practise that into your moves.
DON'T resort to cliched 'pantomime moves'. Some songs need you to point out things, but pointing to the ceiling when you sing about stars can make a pantomime of the song. So too, placing your hand on your heart every time you sing about the heart, love or tenderness can turn the song into a comedy.
Using movement, gesture and bodily expression in performance can be a challenge at first, but working on this aspect is essential and fun, developing your overall capability as a performer. See our singers using face and body expression in some photos from our recent Studio Concert.
Keen to start your performance skills from the ground up? Call us on 0402 409 106 to try a 50-minute introductory lesson, or browse the studio's in-person or online singing lesson options.