Stephen Sondheim's contribution to 20th Century music theatre is undeniably important, so I thought I would acknowledge his passing, in November, by looking at four of his songs and how each helps you improve a specific aspect of your vocal skills.  
Many of my students are working on Sondheim songs in their singing training. They are often musically challenging, with intriguing character/emotional studies, and terrific for learning vocal and musical technique.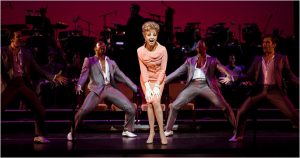 'Anyone Can Whistle' (from Anyone Can Whistle)
Suitable for singers of all levels, ages and genders, this song is especially good for beginner singers. Its character is complex and looking to another person to help them release their emotions and be free. 
One of this song's greatest challenges is its intervals of major and minor seventh. The seventh interval is just under an octave and can sound incomplete. But by not resolving this interval, Sondheim conveys the terrified character who can't find their freedom. 
David, a student who is working on this song says, "I realised there are a lot of nuances to pick up in relation to the character and how their story develops. Singing the intervals accurately and hearing them in my head was difficult, at first. Gradually the lyric and melody began to correlate and I could understand why the song was crafted as it is." 
How it improves your singing: Landing on the correct pitch can be challenging for singers of all levels, so learning this skill can take time. Learning seventh intervals develops accurate pitching. I encourage my students to sing octaves then sing the seventh note to learn and hear the small but vital difference. In 'Anyone Can Whistle', this difference is especially vital because its awkward, unresolved sound communicates the complex, crippled character. 
'On The Steps of the Palace' (from Into the Woods)
Understanding the underlying rhythm here is the main challenge. The character, Cinderella, is stuck in tar, thrown by the prince on the palace steps to stop her from leaving. She has to get home before midnight, when she turns back to her servant self. 
Rena has worked on this song and has noticed the accompaniment and the words are inseparable. "There is a clockwork to the accompaniment that does not give room for any loss of concentration. The crunch of time is evident as Cinderella is on the one hand stuck on the steps of the palace, yet needs to fly home before midnight. The words of this song mean you need sing in a spoken manner and the agility I have worked on assists here." 
How it improves your singing: Most of the song sits in the female singer's middle and low registers, between upper E and lower B (below middle C). So, your middle or mixed registers need stability and balance. Your upper notes can't flip into pure head voice and your lower notes don't need too much chest register, or you will lose the young girl character. 
This song is for an advanced, musically competent, vocally agile singer and helps develop precision in diction. The words need to bounce off your tongue quickly and crisply, with a conversational style as Rena observed. The 'oo' [u] sound needs attention on "shoes", "lose" and "goo". If the tongue shape is too tight or high it will sound out of tune. If the tongue is too far back these words lose their presence. 
'Sooner or Later' (from the film, Dick Tracy)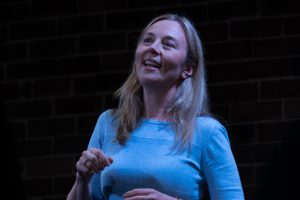 Written for and sung by Madonna for the 1990 film, this song is ideal for older female singers, and those with strong acting ability. Gina, an actress who works with the studio, says, "you must embody the character of this song. Sondheim writes music that is designed to build the complexity of the character". 
How it improves your singing:
'Sooner or Later' helps singers develop both their acting and vocal technique. The melody sits in a low chest voice and works well using a breathy sound or a clearer tone. You need to tell the journey of this risky character, with a torch song feel. It helps you develop a textured chest voice tone, with open throat, but not a belt quality. If you choose the breathy tone, you need to plan for this so you don't run out of air on the long-held notes. 
This song also expects specific vowels and interval moves of major and minor seconds and thirds, which help you develop muscle and pitch memory to ensure correct pitch and tuning. 
'What Can You Lose' (from the film, Dick Tracy)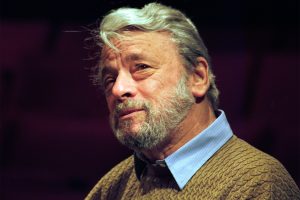 Sung by the Dick Tracy character, this song is a private and intimate moment between the singer and his feelings for Tess Truehart. Here again, the singer needs clear tuning and pitching abilities to achieve the intervals of seconds, thirds and fourths – sometimes in descending patterns, sometimes in rising patterns. 
How it improves your singing: This song helps male singers develop their upper register and how they use vocal dynamics; that is, controlling their loud and soft singing. You need to know your body and voice well enough to trust that your soft singing will be heard. 
Learning how to work crescendos and decrescendos are important and using your air flow is a skill needed to accomplish this musical device. This helps you learn breath control so that you don't push air and cause the tone to tighten on a crescendo. You can also use the sensations of crescendos to help you learn decrescendo. The sensations are the same but in reverse. It takes time to figure out how to decrease the dynamic from forte to pianissimo. Thinking of the sound becoming 'smaller', while not closing your throat space, can help. 
I hope this deeper look at some of Stephen Sondheim's works helps you see how well-crafted songs can help you develop your singing abilities, whomever your favourite composers may be.
By working closely with you, Kathleen Connell, can assign songs that help you target specific singing goals, that you will also enjoy singing. Find out more about working with Kathleen. And then get in touch. 
Kathleen's expert lessons help singers discover their voice and assist them to make the changes that will bring confidence and security to their singing. The work needs guidance and there are no quick fixes, but the benefits are worth it. Kathleen actively pursues professional development as a teacher, singer and musician and was awarded a PhD for studies on singers career trajectories. She is a published author, who also loves gardening and bike riding.