When you want to sing a wider repertoire of songs and genres, vocal agility is essential. But you don't need to achieve the melismatic acrobatics of Christina Aguilera or Guy Sebastian to create impressive sound easily. Singers of all levels can develop more agility in singing and effortless fluidity of notes, by slow, steady practice.
What is vocal agility?
Singing with agility means being able to move easily, smoothly, and sometimes quickly, through registers. To do this, you need to master an easy breathing process so you can open up quickly for an in breath. My recent articles on inhalation and exhalation techniques have helpful breathing tips. 
Your vocal tone can tighten if you don't open up quickly, and you are more likely to push notes out as you shift registers, sounding strained. As I've covered before, register shifts require a patient, step-by-step approach.
Start slow and feel your way
Be patient when working on vocal agility, as it takes time for your brain to learn the note arrangements, while learning to open your airways and move your short and long vocal muscles to facilitate that arrangement. Focus on these steps: 
Release unnecessary throat and neck tension

, so the larynx muscles are free to produce accurate pitches, in time. At first, you need to feel as if you've given up control so the notes fly out, without worrying about pitch. Any tightness in your tongue, jaw or throat will hamper this fluidity.

Learn to trust your ear

. Let the space in your mouth and throat stay open and get used to trusting your ear on pitch without pushing the sound, as you ascend and get near the end of the passage. 

Shape your vowels correctly

. Accurate positioning of the articulators and mouth shape are important. Any inaccurate changes while practising these exercises will disturb air flow and change the intelligibility of the vowel. 

Repeat, and gradually speed up

. Once you've achieved accurate pitch and shape, gradually introduce speed, repeating the patterns to condition the vocal mechanism – thus achieving agility. 



Increase your range

.

Learning to sing fluidly and with agility

across wider intervals such as thirds is important. Again, start slow, ensuring your throat is open and breath is consistent. Visualise the intervals as small, rather than wide. By practising agility exercises across thirds and through register changes, such as chest to middle or head voice to middle voice, is helpful to smooth out any bumps.  
Exercise for a quick, easy inbreath
Practise a slow inbreath, to check you are opening your throat, ribs and torso muscles. 

Try a short inbreath of 1 second, making sure your throat opens as if a wide tube and your ribs open quickly. Sing a continuous sound starting with a consonant: Z, F, Sh, S. At the end of 8 counts on your out breath, take a breath in for 1 second, making sure you open your throat, ribs and body. 

Repeat the above pattern at least 4 times. Check your inbreath is open, easy and lowish in your body and the articulators do not tighten.

Sing a note. Start with a consonant and open to a vowel – I, EE, or Ah. Sing for 10-14 counts and take a breath over 1.5 seconds. It's like a sneak breath, but you must know how to open the throat and lower torso quickly, as breathing into the top of your torso will make a tight sound.

Repeat to get ready for patterns that increase agility.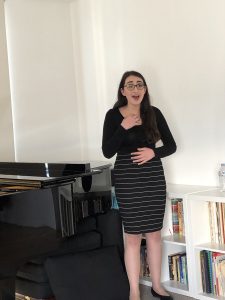 Student Rena achieves a stronger, more efficient voice, to sing a wider repertoire  
Rena El-khoury started working on her vocal agility a few months ago, when I sent students a video of exercises during our online lessons in lockdown. Incorporating agility exercises into her vocal warm-up, like many of my students, Rena enjoyed them so much, we introduced more agility focus into our lessons.
Rena experienced first-hand the importance of set-up and not overthinking to improve vocal agility. "If I have an open throat, ribs and then shape the articulators, I find I don't need to think too much about the sound or pitch because it just becomes fluid," she said. 
"Sometimes, when we overthink in singing, it can affect the sound. Agility exercises are quick, so it is vocally important to keep it light and forward so the sound can be free, and the voice doesn't feel strained. Once you put weight on the sound, it doesn't flow out as easily. When you understand the pitch and how to set up the agility exercise, the sound almost works as muscle memory, so you shouldn't need to force it out."
Since working on developing more agility in singing, Rena has noticed she produces sound with more ease after first setting up her throat, ribs and torso correctly. Her sound has become much brighter, lighter and richer in tone. And with greater voice agility she's expanding the repertoire we've been working on together. 
"I sing a lot of musical theatre, and am dabbling in a bit of opera, where vocal agility is needed. It also allows me to sing a variety of genres, learning at a much quicker pace. My vocal quality has also improved, and I've reduced my warm-up time, creating more efficiency in my voice," she said.
All of my students have enjoyed this intense focus on vocal agility, learning to trust their ears, stop obsessing about correct pitching and have a go, even if the notes slide or slip across pitches at first. If this happens, we slow the patterns until the singer feels accuracy is better.  
With most singers back to in-person lessons, we now include agility exercises each time, whether they are beginners or highly experienced. Students find them fun to do and, best of all, challenging and strengthening. 
Working on vocal agility is specialised work. Kathleen Connell's expertise in singing training helps singers achieve specific goals like this through targeted single lessons or packages. To find out more, get in touch.
Kathleen's expert lessons help singers discover their voice and assist them to make the changes that will bring confidence and security to their singing. The work needs guidance and there are no quick fixes, but the benefits are worth it. Kathleen actively pursues professional development as a teacher, singer and musician and was awarded a PhD for studies on singers career trajectories. She is a published author, who also loves gardening and bike riding.