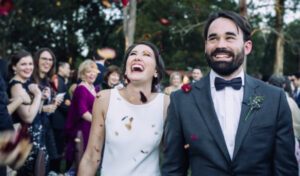 Singing at a wedding or other special occasion is one of the most memorable 'gifts' you can bestow on a friend or family member. Or even better, it can be an unforgettable surprise for your newly-betrothed. Yet this type of performance comes with an added complication. Emotion.
Here are five ways to help keep your emotions in check during a sentimental performance.
ALSO: Here are 3 stories of wedding performances by my students
Start your preparation well before the event
I've been lucky enough to help many singers prepare for a special performance. Some have been invited to perform at a friend or family member's wedding, while others need help to surprise their bride or groom on one of the biggest days of their lives. Of course, it's exciting to be part of this process…except when time is running out! You need time on your side to ensure you're fully prepared for a performance like this and to ensure there's no extra pressure or anxiety. If you're considering lessons, at least half a dozen is a good number to work on various technical aspects and fine-tune your performance skills. It also gives you and your teacher scope to select a song that not only suits your voice, but is also suitable for the occasion and achievable within the timeframe. Unless you've got your heart set on a particular song, ask your singing teacher to help with song selection.
Practise in front of an audience
Practising in front of an audience is important for any singer preparing for a performance, but it's possibly even more crucial when it's an emotionally-charged occasion. Testing your skills in front of a run-of-the-mill crowd allows you to focus on any technicalities and finesse your performance style. And as always, practice makes perfect.
If it's a surprise, appoint an accomplice
When you're planning to surprise your loved one with a special performance at your wedding, it's tempting to keep it a secret from everyone. However, I always recommend confiding in at least one person, usually your best man or woman. They can take care of any peripheral details, like making sure your betrothed is centre stage and the audience gathers around to hear you sing. They can also support you to avoid alcohol until after the performance. See step 5!
Schedule your performance early in proceedings
It's likely you'll experience some nervousness, so don't leave your performance until the end of the event. If you're singing at your wedding, try to schedule it soon after the beginning of the reception, so you can relax and make the most of a party you've been looking forward to. It also means you can enjoy an alcoholic beverage sooner rather than later. See step 5!
No alcohol
While alcohol can dampen your nerves, it won't help to bring out the best in your performance. In fact, the opposite is quite often the case. A substitute beverage is sparkling water because it still looks festive and fun.