As singers, we sometimes have the privilege to share our talent with friends and family at special occasions. That's been the case for several of my students this year, with two of them serenading their new spouse! Read their stories.
ALSO: Are you singing at a special occasion? Read my tips for a sentimental performance that's tender, not teary!
Kylie's story
At her recent wedding, Kylie surprised her new husband Simon by performing Bob Dylan's 'Make you feel my love'. Kylie came to me with two songs to choose from, including Etta James' 'At Last'. I helped her choose the best song for her abilities and range and also encouraged her to take up the opportunity to perform at mic nights at Circular Quay's Stamford Hotel, where her friend works.
Here's what Kylie had to say:
I recently got married and wanted to add a special touch to my wedding day and surprise my new husband with a song.
Whilst I've been singing since a young age, I have never really pushed myself to perform or prepare for a performance, so it's not something I'm overly keen to do. I found Kathleen via an internet search and upon contacting her we immediately started preparing for my performance.
I found the experience not only prepared me to sing on the day to feel confident when singing in front of an audience – which was something I had never been able to do before – I also felt I learnt so much about breathing, holding my posture, and relaxing into the song. Most importantly, however, I learnt to connect with the song which really took the song to the next level.
To my surprise I actually looked Simon in the eyes as I sang, and I didn't cry!
Simon and his family loved my song. A couple of people even said it brought a tear to their eye! I loved the entire experience and I think it was great to learn and to practice with such an experienced teacher.
I could not recommend Kathleen more highly. Within a short amount of time, she taught me so much about singing, technique and performance. I was able to sing confidently on my wedding day and create a wonderful memory for my new husband, family and friends.
Celine's story
Celine performed at her cousin's wedding reception earlier this year, which was held in a large Catholic church. She felt the pressure of doing her best at such a special event.
Here's what Celine had to say:
This year has been the turning point for me after two years of practice – breathing, pronunciation, posture and learning to leave the throat alone! I can attest that it is a lot harder singing in front of family! I now have more confidence and truly enjoy the singing and pleasure it gives. Looking forward to further improve and hone my skills! Thanks Kathleen!
Kieran's story
I walked into Kathleen's studio a complete singing novice with the goal to surprise my wife at our upcoming wedding. To be honest, I thought I would be told that this was all a lost cause and that I would sound horrible. Kathleen immediately gave me confidence. I loved Kathleen's understanding that singing success stories come in different shapes and sizes. To me, singing at my own wedding would be an amazing, personal success story.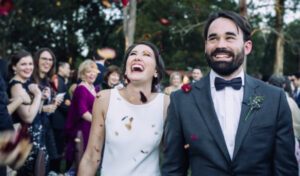 With Kathleen's direction I was able to increase my lung capacity through specialised breathing techniques, remember and refine lyrics and calibrate my vocals. Most importantly, she gave me the confidence to sing.
I used a song I loved, 'Goshen' by Beirut as the basis of the wedding song. My brother, a musician, completely remodelled the sound and helped write the lyrics. In the end, it turned out perfectly. It was such a beautiful moment and all my training and efforts came to fruition. The reaction of my friends and family will forever be in my memory.  Surprising my beautiful wife was incredible – she was so impressed, and it was a really special moment. To this day people still comment on how amazing it was. I can certainly say, without Kathleen's help, support and belief none of it would have been possible.
I know I will never be a famous singer, but to me the lessons, the practice and the singing on the day of the wedding will always be one of the most successful and intimate moments of my life.
Are you singing at a special occasion? Read my tips for a sentimental performance that's tender, not teary!